The Hyundai Tucson: A Crossover in a Class of Its Own
Every once in a while, there comes a vehicle that shakes the entire industry and the competition has to catch up or be left behind. The Hyundai Tucson is one such crossover SUV that has set new standards for the whole automobile industry.
The Hyundai Tucson 2020 has managed to blend elegance with a sporty vibe
that has traditionally been the hallmark of high-end sedans only.
If you are looking for a Hyundai Tucson for sale you are on the right path. Tucson has been comprehensively redesigned so that it is looks both bold and dynamic. This dynamism goes all the way from its sleek aerodynamic spoiler to its glossy black and chrome hexagonal grille.
It has an industry-leading panoramic sunroof that can make night driving extremely pleasant even as it opens up a whole new world of excitement. The sunroof is compounded by Tucson's big windows that let in light and fresh air. All you have to do is to slide the shades back and be at one with the great outdoors.
Let's look at some of its best features.
Led Headlights and Running Lights
The Tucson is equipped with brilliant LED headlights as well as a Daytime Running Lights (DRL) system. The two taken together, create some of the most stylish lighting systems in the crossover SUV category.
19-Inch Full Alloy Wheels
The Hyundai Tucson for sale today boasts of a sporty wheel arch that forms the perfect frame for its 19-inch alloys wheels. These alloys add both grace and style that really go the distance with you. The vehicle is also available with 18-inch alloy wheels.
Auto Liftgate
It also has an automatic liftgate that detects the proximity key and opens within 3 seconds. No need to fumble around for the keys to dump your parcels in your car. Just stand close to it and it will open up on its own, faster than you can say Open Sesame!
Surround View Monitors
The multiple cameras mounted on the Hyundai Tucson offer a compressive 360-degree view that helps to enhance situational awareness. Thanks to this feature you will be able to see not just the back but also the front and sides of your vehicle.
Wireless Charging Pads
If you don't like wires and plugged in chargers cluttering up your cabin space, well you are in luck! The Hyundai Tucson comes with a Wireless Charging Pad for extra convenience.
Look at the Big Picture
The vehicle comes with an 8-inch multimedia navigation and infotainment system that will allow you to access maps, entertainment, messages and a whole lot more. Best of all, you won't have to shift your focus from your driving activities.
Take Control With Voice Commands
Once you download the Hyundai app on your smartphone, you will be able to access not just the remote lock but also your car's climate control system. You will speak and your Tucson will listen and obey!
Listen to Music the Way It Should Be Heard
The HyundaiTucson 2020 is equipped with a state of the art Infinity® Premium Audio sound system that also includes Clari-Fi™ technology. These two systems work together to fully restore every sound and low keynote to perfection. The electronics are complemented by a grand total of eight high quality speakers, including a center channel as well as a subwoofer system.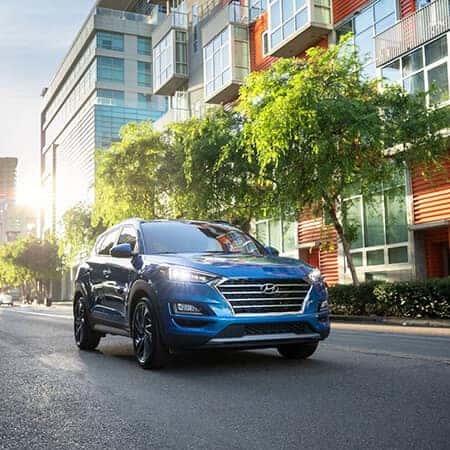 Tucson and Other Crossovers
Tucson offers many advantages over other small SUVs and crossovers that are available today. For example, it's cargo capacity is better than the Mazda CX-5. Its infotainment system is also much superior to many other vehicles in its class. Moreover, the panoramic sunroof option allows it to truly stand out in every vehicle category.
Throw in the fact that it offers the ultimate in comfortable rides as well as above-average handling abilities and we can see how and why Hyundai have created a winner.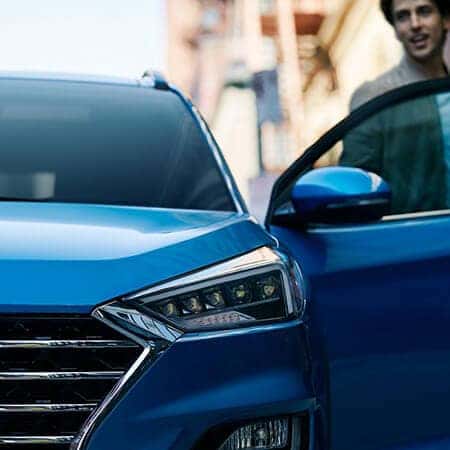 Engine and Transmission
The Tucson is powered by a 164 horsepower (hp) 2.0-liter engine. There is another variant available with the 181-hp 2.4-liter engine and both are mated to a six-speed automatic transmission.
The power train gives excellent acceleration and the vehicle changes direction with a measure of confidence not available in most of its competitors. It also offers a highly refined and smooth ride, and its solidly built suspension soaks up the bumps and potholes quite nicely. All in all, it has the kind of uniquely balanced nature that anyone looking for a crossover SUV will find too appealing to resist.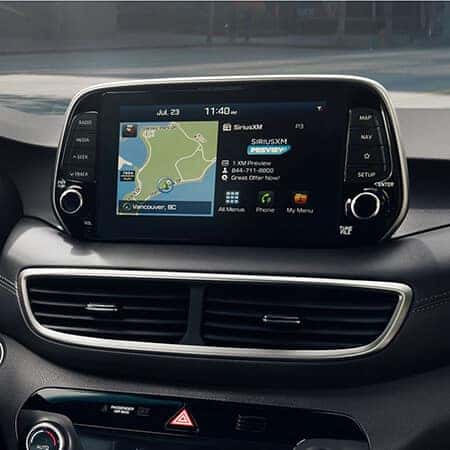 Technological Prowess
It has many state of the art technological innovations that will help to ensure that you are always well aware of all of your surroundings. Its sensors constantly check the ever-changing traffic conditions on the road while the advanced infotainment system keeps you entertained on all those long interstate drives.
Let us check out more amazing features and functions so that you are be able to see why this is such a great vehicle to drive and own:
The Hyundai Smart Sense System
Hyundai vehicles are equipped with a cutting edge smart sensor system that comes with highly advanced safety features. The Tucson is also similarly furnished with a comprehensive bundle of cameras and ultrasonic sensors and even multiple close range radars. This highly sophisticated network of sensors will actas an extra set of eyes that will help you to both drive and park your little SUV. This system assured near absolute peace of mind in all driving conditions.
The Hyundai Smart Sense system (SSS) includes the following options for different Hyundai Tucson 2020 trims::
The Forward Collision-Avoidance Assist system ( FCAAS)
This option comes as standard on Value, SE (special edition), Sport, SEL, and Limited trims and it has been designed to act as a supplement to modern safe driving practices. Your vehicle will warn you of a possible collision, the moment it will detect a stopped or even slowing vehicle in your path. If you don't respond in time, it will start applying emergency braking measures on its own.
Lane Keep Assist (LKA)
The Hyundai Lane Keep Assist (HLKA) system has been designed to keep drivers and passengers safe when traveling at freeway speeds. It is a standard feature on all the trims of the Hyundai Tucson 2020.When activated, it will give you audio-visual cues if it feels that you are drifting out of your lane without signaling. It can also gently rectify your drift with the help of corrective steering assistance.
DAW System
An advanced driver attention warning system is available as standard on the following trims:
SEL
SE
Sport
Value
Limited and
Ultimate trims
This feature continuously monitors your driving patterns to see if you are feeling drowsy or if you are not paying attention to the road. Once activated, it will alert you via messages and sound cue warnings so that you take charge of the vehicle.
FCA With Pedestrian Detection
The FCA's pedestrian detection module is available as a standard feature in the Ultimate trim. The forward camera and radar system will detect any pedestrians in your path and also activate an audio-visualwarning.
Smart Cruise Control (SCC)
This feature is only available on the Ultimate trim. It will help you to maintainyour pre-set speed on the highway and also keep a set distance with the vehicle in front.
Blind-Spot Collision Warning system
This value-added feature is available on the Value, Limited, Sport, SEL, and Ultimate trims only. It will sense the presence of a vehicle in your blind spots and inform you if you change your lane in the direction of the approaching vehicle.
Rear Cross-Traffic Collision Warning System
This nifty little feature is available as standard on the Sport, Value, SEL, Ultimate, and Limited trims.It will help the driver to back out of a parking space by detecting vehicular traffic coming from either side of your Tucson. It will not only alert you of any potential hazard but also activate braking measures to avoid a collision.
This system is fully active wheneveryou put the vehicle in reverse gear and are operating the vehicle at low speeds.
The Role of the Dealership
In many cases, the vehicle is only as good as the Triple S factor. That is, the sales, service and spare parts dealerships that are the go-to options for anyone looking to buy a new vehicle or getting their old one repaired. This is the part where the Hyundai dealership becomes of importance. The good people at Bentley Hyundai are some of the best professionals you can find in North Alabama.
The Bentley Auto 5 Count Promise
If you want a Hyundai Tucson Huntsville you can count on Bentley Hyundai to do the needful. Apart from the dealership's commitment to consistency and best prices, they also ensure the best purchase experience possible, for each and every customer. They work to ensure that every sale follows the same core principles that include the following:
We Are a Family
The dealership acts as a family for both customers and employees alike. In fact, many of their employees have been with them for a decade or more. You can count on them to make you a valuable part of the extended Bentley family long after you have driven away with your Hyundai Tucson Huntsville.
In-Store and Online Shopping Network
The low prices here are not just a marketing slogan but the real thing! It does not matter if you shop online or directly visit the showroom, you can rest assured that you will find the very best prices available. There are no hidden fees or charges involved.
Transparency is a way of life and you can rest assured that you will be able to drive away with your dream Hyundai Tucson Huntsville at the quoted price only.
Three Day Vehicle Exchange Policy
Bentley Hyundai is totally committed to the goal of one hundred present customer satisfaction. If you are not satisfied, you can bring your purchase backwithin 72 hours of purchase. The showroom will take it back and find you something that you will grow to love.
A Massive Number of Vehicles Available to the Discerning Buyer
Bentley has a network of half a dozen dealerships. This means that they have the very best selection of both new and used vehicles of just about any auto showroom network in the area.
Bentley showrooms are not restricted to new vehicles alone but also used trucks, SUVs, and sedans that will get you to your destination in style.
Five Generations of Auto Dealerships in North Alabama
The Bentley family has owned auto dealerships in the same area for really a whole century. This means that they have been in the same business for five generations! You can say that great customer service is locked into their DNA code.
Why Bentley?
The Bentley Hyundai Tucson Huntsville dealership was launched back in 2004.They believe that driving an amazing vehicle is not enough. It has to be backed by some of the best experts in the field. People that you can turn to when you need help or advice in maintaining your car. If you are looking for a Hyundai Tucson for sale, you can rest assured that Bentley Hyundai in Huntsville has the perfect crew for the job.
Conclusion
If you want to purchase a truly awesome vehicle like the Hyundai Tucson 2020, you should visit the Bentley Hyundai showroom at 3805 University Dr, Huntsville today. They will be at hand to assist you and answer all your queries.