Grab A Dozen Doughnuts From Parlor Doughnuts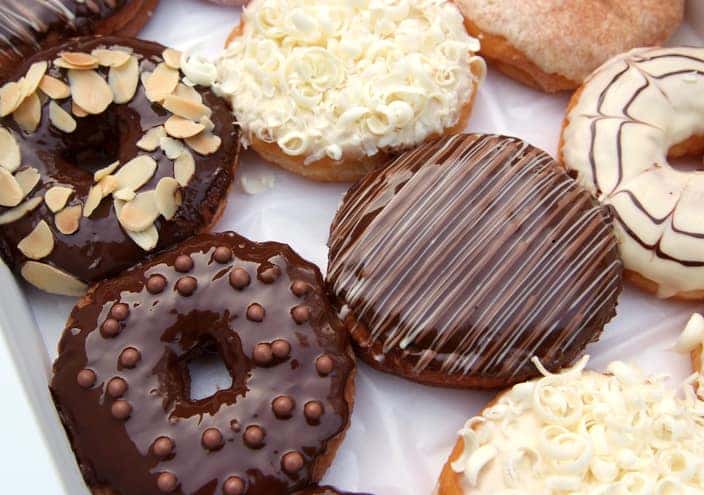 On weekend mornings, there is nothing quite like grabbing a delicious pastry and a hot cup of coffee to start and enjoy the weekend. For mouth-watering flavors and delightful layers of pastry, visit Parlor Doughnuts. Parlor Doughnuts delivers a fantastic menu of gourmet doughnuts, coffee, milkshakes, and more.
Layered Doughnut
Parlor Doughnuts was founded by Darrick Hayden, whose mission was to find the best doughnut. Through Hayden's venture to find a delicious doughnut, he alongside his son established Parlor Doughnuts which provides patrons with a 'layered doughnut'. This type of doughnut sets Parlor apart from the traditional yeast or cake-style doughnuts that you have grown accustomed to. When you bite into one of Parlor Doughnuts' doughnuts, it almost tastes like a buttery and flaky croissant.
Doughnut Flavors
Not only does the pastry of the doughnuts set Parlor apart, but the flavors do as well. Parlor Doughnuts offers customers a unique selection of doughnuts. In the mood for something tart and fruity? Parlor serves Raspberry Pistachio, Blueberry Hill, Strawberry Shortcake, and Raspberry Jelly Filled doughnuts. Chocolate lovers will appreciate Parlor's Chocolate Chocolate, Campfire, and Peanut Butter Cup doughnuts. Parlor Doughnuts also watches for its customers' dietary concerns by providing gluten-free, keto, and vegan options.
Coffee Drinks
Of course, you cannot enjoy a doughnut or two without a delicious cup of coffee. Parlor Doughnuts provides a great selection of coffee drinks. Whether you like to stick with traditional drip coffee or shake things up with a Mayan Mocha or Hot Chai Latte, Parlor Doughnuts has a coffee drink that will complement your doughnuts. Along with hot drinks, Parlor also offers iced options like the Iced Matcha, Cold Brew, or Iced Latte.
You might also like: Butter Up Your Loved Ones With These Recipes
Milkshakes
If you visit Parlor Doughnuts later in the day, you may want a different kind of treat than a doughnut and coffee. Parlor makes some incredible Doughboy Milkshakes. You can enjoy delectable flavors like Maple Bacon, French Toast, Churro, and Turtle Cheesecake.