COVID – 19 How to Disinfect Your Car Interior
COVID – 19 How to Disinfect Your Car Interior
In the past few weeks, the COVID-19 pandemic has truly shaken all the US states, including Alabama where new COVID-19 cases are being confirmed every day. During this trying time, you need to keep yourself and your family members safe from the threat of the coronavirus. There are various ways in which you can ensure your safety and prevent the spread of the virus. You must regularly wash your hands with soapy water, keep your house clean, and even make sure to disinfect your car!
Cleaning and disinfecting your car regularly will help you avoid the risk of COVID-19. This is because even while practicing social distancing and staying at home, your car is your only means of heading out for essential tasks such as getting groceries.
The interior of your car has numerous spaces that you frequently touch, such as the steering wheel, the car door, the gear shifter etc. Bacteria and viruses can easily travel from your hands onto these surfaces. This is why you must clean the interior of your car after every use just like you would clean your hands after entering your home.
If you believe that you or someone in your family has contracted the virus, then you need to disinfect it right away. The best way to ensure that your car is properly disinfected is to follow these steps outlined by the Hyundai service center.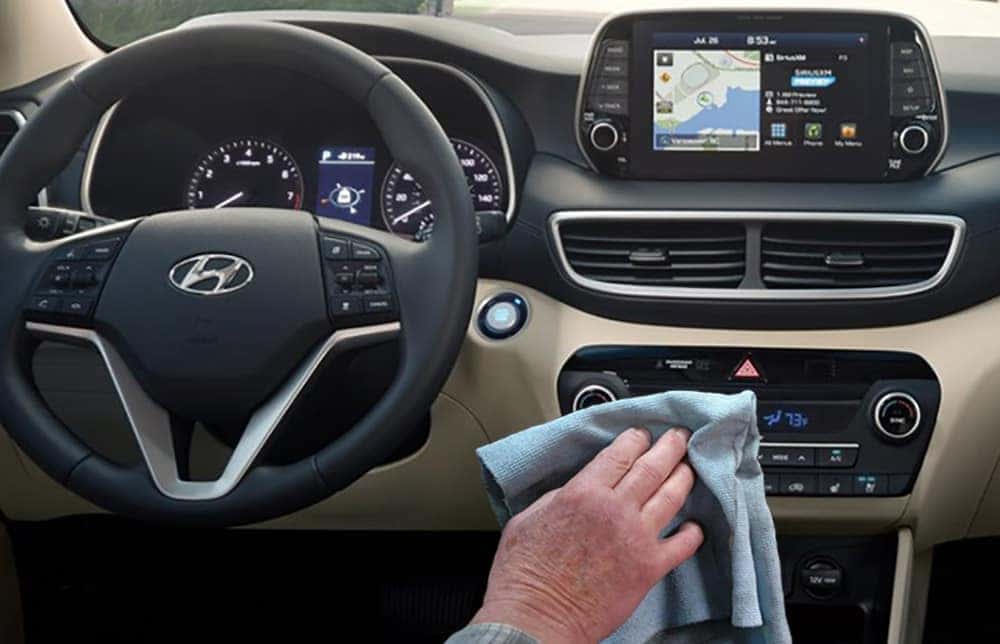 Choosing the Right Materials to Clean Your Car Interior
The first and foremost step to cleaning and disinfecting your car interior is to opt for the right cleaning agents. You don't want to make an uninformed choice and end up ruining your car interior. Depending on the materials of your car interior – cloth, leather, imitation leather, etc. – the cleaning agents and steps will vary. The steps that you will take to clean your car will also vary based on the type of materials you have.
When it comes to cleaning car interior surfaces, isopropyl alcohol is your go-to material. This is because it's pretty safe to use on most car interiors. In fact, various production plants readily use it to put a final touch on certain car interior components before they are shipped out. Isopropyl alcohol works great at removing smudges, stains, and residues. Moreover, it actively kills bacteria and viruses. Steer clear of materials such as bleach or hydrogen peroxide to clean the interiors as they can damage the upholstery of your car.
Make sure to use isopropyl alcohol that is 70% or higher to clean the hard surfaces in your car – including your dashboard, steering wheel, armrests, seat adjusters, consoles, shifters, doors, handles, and more. These are all high touch areas in your car that need to be disinfected. Additionally, make sure to clean interior components such as ventilation knobs and grills, as well as your rearview mirror.
Use a microfiber cloth to wipe down and clean these areas with isopropyl alcohol. We recommend using a microfiber cloth because it is perfect for trapping dirt particles and doesn't scratch the surfaces you're cleaning. You can easily clean the cloth and imitation leather interiors with this alcohol.
If you are afraid of scratching or ruining your Hyundai car interior, then reach out to the nearest Hyundai service center to get it cleaned and disinfected by professionals.
How to Clean Leather Interior
If your car has a leather interior, then it probably has a thin protective layer to protect it from discoloration. Using isopropyl alcohol will deteriorate that layer and might even remove the dye from your leather seats and other components! So, the best way to clean your leather steering wheel, trim, and seats is with a combination of water and soap.
When cleaning your leather interior, make sure that you don't scrub the surface too hard and avoid using an excessive amount of soap or water. Think of washing your leather interior with soapy water as akin to washing your hands – the soap and the friction helps to kill the virus and other germs.
Things to Remember When Cleaning and Disinfecting Your Car Interior
Even though Hyundai car interiors are built to be incredibly durable to withstand wear and tear, using a rough cloth or scrubbing unnecessarily hard can cause scratches on your pristine interior. So, make sure to use a gentle hand and wipe the hard surfaces with alcohol and a microfiber cloth. As for your upholstery, gently clean it with a cloth and soapy water in circular motions from one end to the other.
Another important aspect of cleaning your car interior is to limit the amount of water. If you use too much water to clean your seats, it might soak through the cloth upholstery and get into the cushion underneath it. This can lead to mold growth and might cause your car to have a weird musty smell. You can reach out to the nearest Hyundai dealerships in Alabama for more information on properly cleaning and disinfecting your car during this pandemic.
After cleaning it thoroughly, make sure to let your car interior dry completely. This will help you keep your car upholstery in top shape. Once you have cleaned your car, make sure to wash your hands with soap and water. Also, always wash your hands before entering your disinfected car. This will help you keep your car as clean as possible for a long time and also reduce the risk of the virus making its way into your car!
Remember to wipe down the high touch areas as frequently as possible. Even if you don't have isopropyl alcohol at hand, make sure to use a wipe and a high-quality hand sanitizer to at least clean your hands and steering wheel before using your car.
The Bottom Line
If you believe that a family member or friend with COVID-19 has sat or traveled in your vehicle, you should disinfect your car right away. You can also reach out to Hyundai dealerships in Alabama for more help on cleaning your car to prevent the spread of COVID-19!